2019-2010 Check In Dates
LPS Communications
Friday, June 07, 2019
Attendance at LPS Check-In is required for both *new and returning students in order to obtain a schedule or class assignment.
Documentation needed at Check-In:
-New and returning students:
Proof of residency in the form of 1 utility bill, under the guardian's name (water, gas, electric) or a purchase/lease agreement for recent moves.
New students must have birth certificate and immunization record.
**Please note that students must be up-to-date on all immunizations to attend school. Click here for more information.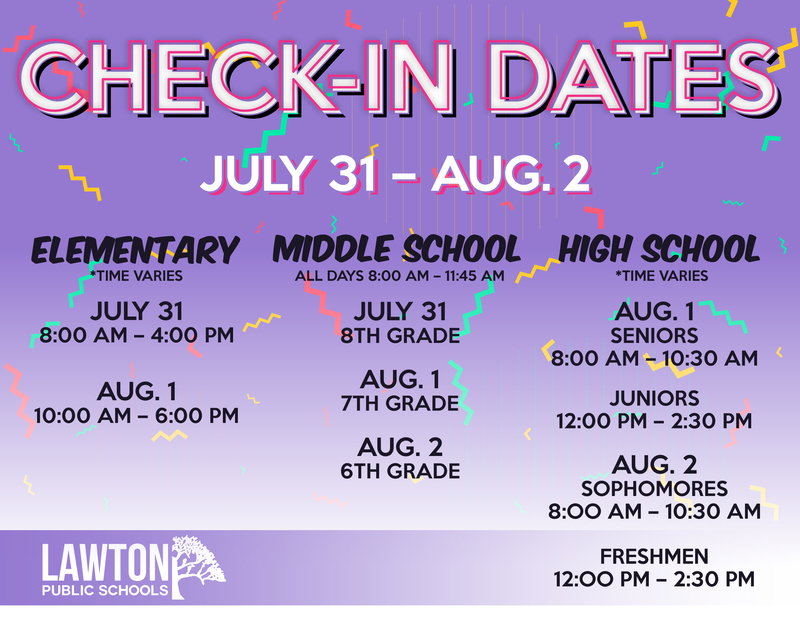 *For those NEW STUDENTS TO LAWTON PUBLIC SCHOOLS
Step 1: Families who are new to the district must complete online registration.
(*After online registration is complete, parent/guardian will receive a confirmation email.)
Step 2: Attend "LPS Check-In" event, as described above.
Step 3: Bring required Check-In documentation,as described above to save time at event.
Click here for online registration
**Lawton Public Schools allows open transfer applications from Jan. 1st to May 31st. (Students home school is based on physical address. Please use our School Boundaries tool to confirm intended school. Thank you.)
LPS is currently accepting registration applications for 2019-2020 Pre-Kindergarten students. You must signup through your Pre-Kindergarten site before your application will be processed. Thank you.